The Home Front
I frequently talk about my wife and children in class and thought you might be interested in seeing what they look like. So, here are a few pictures of my family.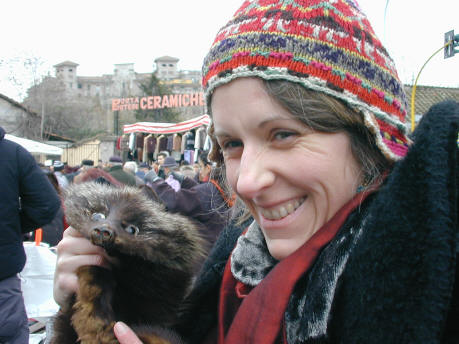 Amy
(my lovely wife)
Amy was Head of the Reference Department in the Trexler Library at Muhlenberg when I met her. She has been a reference librarian at Lafayette College for the last 12 years, and has recently accepted a position teaching epidemiology at Rutgers University. She has 4 Masters Degrees: an M.A. in Library Science from Rutgers University; two M.A.s from NYU: one in Education and one in Performance Studies; an M.P.H. (Masters in Public Health) from the University of Medicine and Dentistry of New Jersey, and most recently, a Ph.D. in Epidemiology from Rutgers Univesity. She is both smart and pretty!
This is a picture of Amy that I took while we were

hiking the Loyalsock Trail in central Pennsylvania.

This is Amy standing on the bridge across the Seine

behind Notre Dame Cathedral in Paris.
| | | |
| --- | --- | --- |
| | I took this picture of Amy outside the Roman Coliseum in Arles, France. | |
Here are a few other photos of Amy that I took while traveling in southern France . . .
| | |
| --- | --- |
| Taking water from a spring near Renne le Chateau that was visited, according to legend, by Mary Magdalene. | Preparing to hike to one of the Cathar castle ruins. |
| Taking a break in the Roman Coliseum in Arles. | Planning what to do next. |
| | | |
| --- | --- | --- |
| | Walking the streets of Arles. | |
Flying over Long Lake in the Adirondacks . . .
| | |
| --- | --- |
| Amy can only give a nervous smile (biting her lip) . . . | . . . at 2,000 feet in the air. |
But that's probably because the pilot

is slumped over in his seat.
Amy loves to camp and cook outdoors . . .

. . . visit some unique place, such as the burial site

of General Stonewall Jackson's left arm . . .
| | |
| --- | --- |
| . . . or hike in the desert Southwest | She is a real Peach! |
In October, 2013, Amy earned her Ph.D. in Epidemiology from Rutgers University. She received a diploma in recognition of her achievement.
There is one thing I have learned from nearly 15 years of marriage . . .
I always do what she tells me to do ! !
| | | |
| --- | --- | --- |
| | Little Miss Sure Shot | |
* * * * *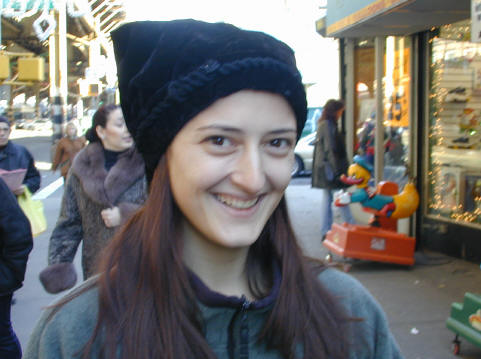 Emily
(my talented daughter)
Emily graduated from Muhlenberg in 2002. She performed in several productions at Muhlenberg, including Ophelia's Tattoo and The Crucible. Since graduating, Emily has performed in The Nightingale, Medea and Beauty and the Beast (in Taiwan) and in a dance piece titled Shelf Life at the Dumbo Arts Festival in New York. She was also cast as the mute in Muhlenberg's production of The Fantastiks during the summer of 2003. She is currently performing with Mock Turtle Marionettes in Bethlehem and has completed a program towards certification as a massage therapist. She is also a budding rock climber and an all-around neat person! She and her husband Micah have recently purchased a house on 9 acres of wooded land in the Adirondacks and will begin living there full time this summer.
| | |
| --- | --- |
| Emily loved to pretend she was talking on the phone when she was a baby. She still talks on the phone a lot! | Emily has been one of my favorite hikers over the years. She and I have done more than a dozen backpacking trips together, including several hikes into the Grand Canyon. This picture was taken during one of our many hikes along the Appalachian Trail in Pennsylvania. |
| | | |
| --- | --- | --- |
| | Emily developed an early interest in theatrics. | |
| | |
| --- | --- |
| Emily graduated from Muhlenberg in 2002. This is a picture of her at Commencement with her then fiancÚ (now husband) Micah. Micah is a chemist who studies Kung Fu and who is an avid rock climber. (This was obviously a "bad-hair" day for Micah) | Emily double majored in Theater and Dance at Muhlenberg. |
| | |
| --- | --- |
| She performed in a dance piece at the Dumbo Arts Festival in New York in 2001. | She also played the Emperor in the Nightingale at the Centre Theater in Norristown, PA in Fall 2002. |
In Spring 2003, Emily played the lead role in Medea . . .

. . . a Greek tragedy about a woman who kills her two children in order to revenge her husband.

Needless to say, I was very proud of her. She gave an excellent performance!
| | |
| --- | --- |
| Micah likes to believe that he is in charge . . . | . . . but he knows better. |
Emily thinks she's "Big-Stuff" now,

but I'm still taller than her!
* * * * *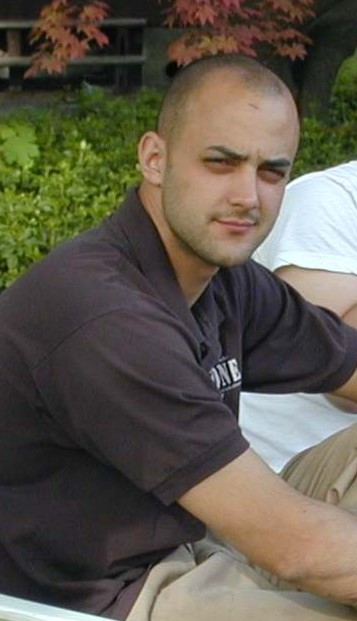 Brian
(my multi-talented son)
Brian is truly gifted with his hands. He is the kind of person who excels in whatever he does the first time he tries something, whether it is drawing, painting, sculpting, doing body work on a car or working on an engine. However, despite his considerable artistic talent, Brian did not pursue art in school, because his real love is cars. He loves to work on them. So, he majored in auto mechanics instead. He is currently employed as an auto tech and hopes to set up his own performance shop. I am really impressed with how quickly he he has been able to acquire a detailed understanding of auto mechanics and design. He has recently formed a band called Tomorrows Gone, which has performed at several clubs in the area.
| | |
| --- | --- |
| I took this picture of Brian during a hike on the Appalachian Trail when he was about 5 or 6 years old. | This picture was taken when Brian and I were at Mesa Verde National Park in southern Colorado. He was about 9 years old at the time. |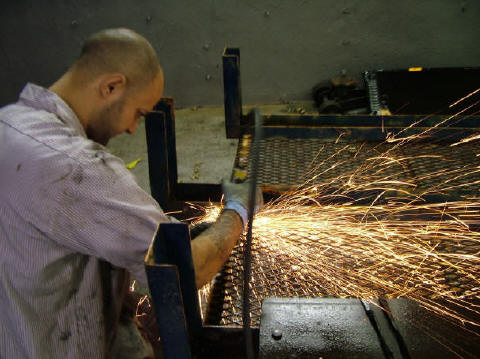 Brian is preparing to weld some angle bars in order to provide additional support for my motorcycle trailer.
* * * * *
The following drawings and paintings were all
done by Brian while he was still in high school
This is a self-portrait of Brian when his hair

was obviously much longer than it is now.

This was the first pen-and-ink drawing Brian ever did. I am hoping that this is not a portrait of me!
| | |
| --- | --- |
| Brian entered this pen-and-ink drawing in a contest in which the 12 top drawings would appear in a Quakertown National Bank Calendar. It appeared as the November drawing. | This is a scratch drawing done by scratching the picture out on a piece of metal. Again, this was his first attempt at working in this medium. |
| | |
| --- | --- |
| | The painting on the left, which is in my office, is based the above photograph that I took in the Southwest. I sometimes wonder to what extent Brian's color blindness provides him with a different perspective on things. |
* * * * *
Brian is a biker, like me. This is his current bike, a 1999 Ducati 750 Supersport. Needless to say, it is fast!. Brian loves to do wheelies with this bike. He bought a Ducati because it is the premiere international grand prix racing bike. He also probably bought it because I used to ride Ducatis (before they became crotch rockets and I got too old to ride in that position). Brian now owns three motorcycles.
| | |
| --- | --- |
| This is Skippy. Skippy was Brian's dog. He was a really great dog. Brian was really upset when Skippy died last year. So, we buried him in the back yard --not too far from where we buried Ralph (the guinea pig). | |
* * * * *
Geof
(my brilliant son)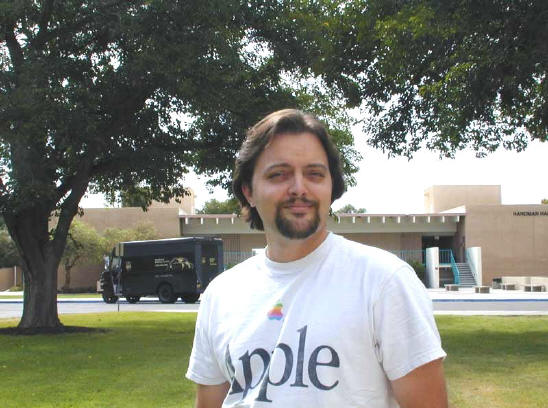 This is my son, Geof, standing in front of one of the classroom buildings at New Mexico State University. Geof is one of the brightest and most interesting people I know. If he were so inclined (which I am glad he is not), Geof is eligible to join Mensa. Geof has worked in various computer-related capacities at Penn State University, the University of Pennsylvania and NMSU, and is currently the webmaster for Dona Anna County, New Mexico. His knowledge of computers, plus his hands-on ability to work with computers, is incredible. I have never had a computer-related question that he could not answer, and usually answer more clearly than any one else, even though he has never taken a single computer course. Geof graduated from NMSU with a degree in Philosophy and is currently pursuing his MFA in Creative Writing at the University of Texas at El Paso. In addition to his writing, Geof composes music for the computer, serves as head projectionist for the Fountain Theater in Mesilla, New Mexico and rides his motorcycles whenever he can Geof, like his Dad and his brother ,Brian, ownes three motorcycles. (I guess it is not surprising that two of my sons ride motorcycles. As my wife, Amy, frequently says, "The apple doesn't fall far from the tree.")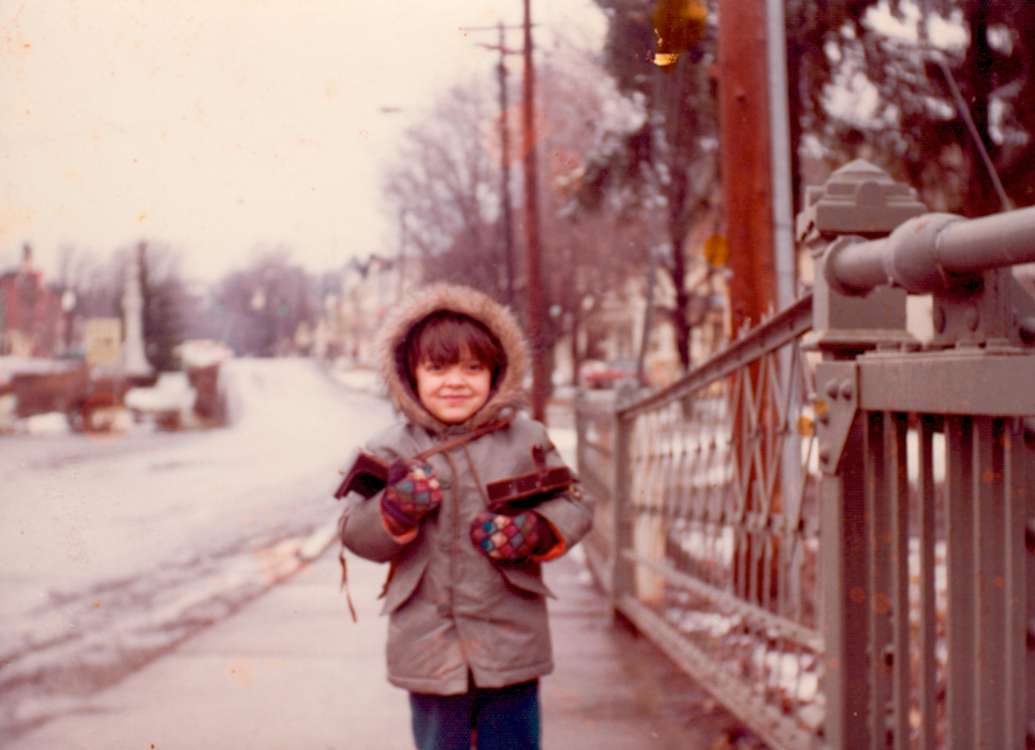 I began to develop an interest in photography when I lived in Greene, NY, a small town of about 2,000 people about 30 minutes north of Binghamton. Geof used to like to go along with me on my photographic excursions. In this picture, he is holding my camera case while I am taking pictures from the bridge over the Chenango River. As an adult, Geof has also developed an interest in photography and has taken some interesting photographs.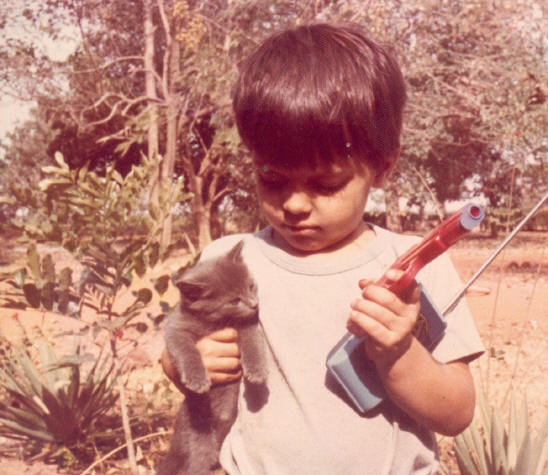 This picture was taken in 1976, when Geof was 5 years old. I was teaching at Ahmadu Bello University in Zaria, a small, mud-walled town in the Hausa region of northern Nigeria. Zaria was the southernmost emirate in the Hausa-Fulani Empire, which ruled much of what is today northern Nigeria before the British colonized the area. Geof is holding our cat Smokey in one hand and a Star-Trek communicator in the other hand. We had bought Geof and his brother these communicators before we left the U.S. Surprisingly, when Geof dropped and broke his communicator, we took it to one of the local electronic repair shops, and they were able to fix it. Smokey didn't fare as well. He simply disappeared one day, and we never knew what happened to him.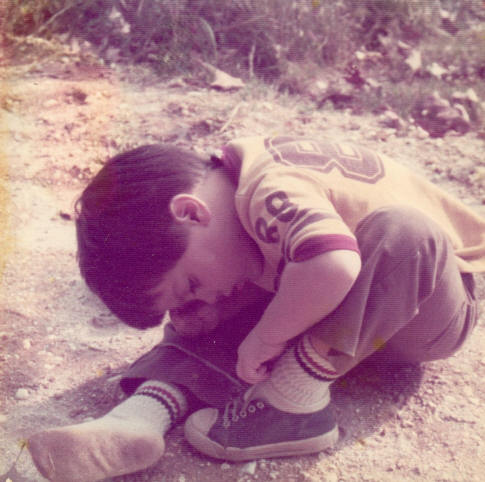 This picture was also taken in Nigeria. Geof was a very curious kid and is here contemplating his shoelaces.
While it looks as though Geof could use a good dental plan . . .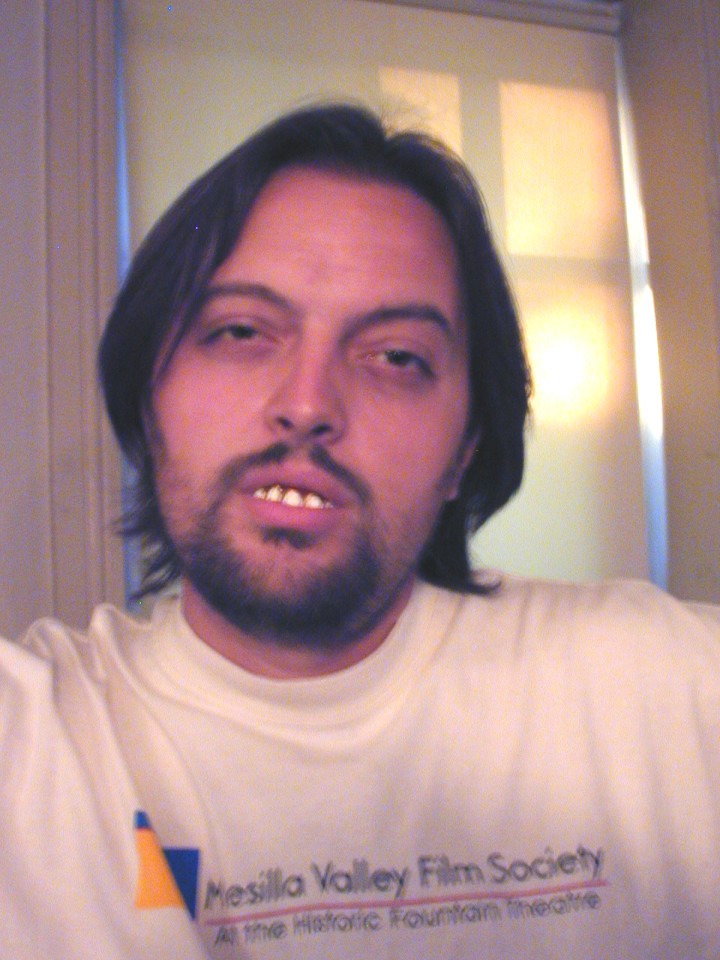 He is actually wearing fake teeth.
Riding with my sons in New Mexico
(notice the sign on the left.)
to be continued . . .