On the Importance of Writing Papers
When I assign papers, I do not assign them merely as busy work or simply as something that I can have on which to base a grade. They are assigned because, done well, they will assist you in learning how to present a coherent thesis in writing, acquire basic writing skills, develop careful reasoning and learn to apply appropriate data analysis. When you postpone working on the paper or turn in a substandard piece of research, you will not only receive a poor grade, but, more importantly, you will have wasted an opportunity to acquire skills that will be essential to whatever future career plans you may have. Good writing is essential to success in the kind of careers you will likely want to pursue.
If you plan to go on to graduate school, regardless of what field you choose, you will be expected to write many papers, most of which will be 30-40 pages in length. You will be expected to write papers that are clearly written, that have a clear thesis and that demonstrate careful and considerable research. Those who have learned to write such papers as a part of their undergraduate education will be in a more competitive position to be accepted to graduate school and to perform well in graduate school once you are there. Simply having what you might think is a decent grade point average isn't enough.
Grade Inflation at American Colleges and Universities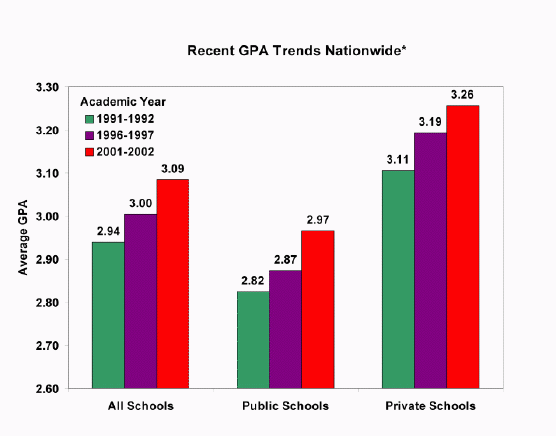 SOURCE: Gradeinflation.com
One of the main reasons
is grade inflation. Several years ago, the average GP

A of graduating seniors at Muhlenberg was 3.25 This means that a

ny student who graduated at that time with less than a 3.25 average graduated in the bottom half of their class. Those students who graduated with a 2.5 average (which would have been the norm 30 years ago) graduated in the bottom 20% of their class. Similarly, whereas a 3.4 or 3.5 GPA might have been considered a very good average at one time, it is currently barely above the average. And the situation has gotten worse. When I arrived on campus in 1996, I discovered that only 7 of the 21 departments on campus maintained GPAs (average grade given to all students in all courses taught in a department) below 3.0. Today, only one department maintains a departmental GPA below 3.0. Moreover, some departments maintain GPAs as high as 3.7, 3.8 and 3.9.
It is because of grade inflation that many companies have begun to test job applicants; they simply don't have much confidence that the GPA means anything. Ford Motor Company has even begun a mandatory writing program for certain of its employees. For the same reason, many graduate programs don't trust undergraduate GPAs either, especially the better graduate programs, unless those GPAs are very high. Practically every graduate program in anthropology that I have reviewed requires applicants for admission to have a minimum GPA of 3.5 to even be considered, and most programs only accept between 10-25% of those who apply. The Head of Penn State's Anthropology Department, where I used to teach, informed me that they are not likely to consider any applicant with less than a 3.7 GPA. They expect a high GPA, very good math and reasoning skills and the ability to write well. Penn State's Anthropology Department accepts about 8-10 of the 80-100 students that apply each year. Many graduate programs are even beginning to require that applicants submit the average GPA of their graduating class as part of their graduate school applications in order to better assess the applicant's "real" GPA.
A former adult student of mine interviewed several years ago for a job as a conference planner for a national pension company. She was given an hour examination as part of her first interview. The test covered math, English, grammar and writing. If she had not passed the test, she would not even have been considered for the job. Those who scored higher on the test were more likely to get called back for a second interview. She scored nearly 100% and, ultimately, got the job. You can pay tens of thousands of dollars for tuition and still not be competitive on the job market, if you have not acquired the skills needed to out-compete students who have learned what you have not learned.
Graduate departments look very closely at the statements they have applicants write as part of the admission process. Applicants are expected to discuss their reasons for applying to the specific graduate program in those statements. Many graduate programs also require that applicants submit a writing sample from which faculty members in the department can determine the quality of research the applicant is likely to perform while a graduate student and their potential as a scholar. The faculty members who review the applications can pretty well determine what the applicant knows and doesn't know and how well he or she is able to do quality research simply by reading their papers. Graduate faculty don't want to waste their time with students who they believe will not be able do the level of work they expect..
The need to be able to compose well-written papers and reports extends beyond graduate school (including law school, medical school, etc.). If you were, for example, to get a job with an investment agency, you might be given an assignment to submit a report on a particular company or sector of the economy that the investment firm can use to advise its clients. If your report is not good, you are not going to find yourself employed for very long, because businesses cannot afford to waste their time and money on people who are not competent. The same would be true if you were working for a law firm and were given an assignment to research a subject that was the focus of a lawsuit being handled by the firm. Law firms, like investment companies (and most other businesses), cannot afford to hire or retain people who cannot do their jobs well, and they are all prepared to fire those who don't do well if they think they can get someone better. They are not in the business of nurturing incompetence.
So, writing a good paper is not just an irrelevant exercise that you need to do in order to get a passing grade. It is an exercise through which you learn: (1) how to research a topic, (2) how to think critically about that topic, and (3) how to coherently express your understanding, analysis and conclusions about the topic to someone else who may or may not be as informed on the subject as you are. The more you write quality essays and papers in college and the more you work to improve your research and writing skills, the better your writing and your analytical skills will become. However, the less you do, the less competitive you will be, and the more likely you may look back in later years at your time at Muhlenberg and regret the opportunity you wasted. This is why taking advantage of the services provided by the Campus Writing Center is so important.
I feel sorry for the student who has spent four years in college and whose parents have invested over $160,000 on their education, but who graduates with a mediocre GPA and who can't even complete a minimal math problem or write a coherent research essay or report. That student may literally be unemployable, except in less interesting and less remunerative jobs. What an incredible waste of an opportunity.
Remember, the day will come when you will have to prove your worth in the real world. The "Muhlenberg Bubble" won't be there to protect you.