Never Underestimate People's Ability to Amaze You!
Interesting News Stories
This web page contains a collection of news stories that I have found interesting and that illustrate the statement on my initial web page that: "Homo sapiens is such an entertaining species!"
* * * * *
Nigerians have developed a rather questionable international reputation. Several fraudulent international investment schemes have been linked to Nigerian nationals. Here is the latest one, as reported in The Economist.
Scam of scams
Aug 22nd 2002
The Economist

How to impersonate a central bank

If you must tell lies, tell very big ones. Last week a gang in Johannesburg were caught telling a whopper: they were masquerading as South Africa's central bank. African con-artists, mostly from Nigeria, have long run a racket known as the "419" scam, or advance-fee fraud. Gullible types overseas are persuaded that great piles of cash stolen by an African general, warlord or minister are mysteriously available. The victims are asked to store the money in their bank account, in return for a share of the loot. But first they must pay a few thousand dollars—to cover expenses, you understand. Each year, amazingly, thousands of credulous victims pay out, with never a cent in return.
Such scams have become two-a-penny, partly because red-faced victims rarely come clean to the authorities. But as Nigerians earn a reputation for dodgy deals (the 419 racket is named after the number of the Nigerian law that forbids it) con-men are moving to southern Africa. One group recently sought partners to "share" in millions of dollars of the late Jonas Savimbi, the Angolan rebel leader.
The latest swindlers set up a website purporting to be that of the South African Reserve Bank. They e-mailed folk in Britain and America to say that money could be siphoned from the bank to their own accounts. Doubters could double-check names, photos and mobile-phone numbers online, and visit an accompanying (and also fake) website of a law firm to draw up legal documents. Of course, the victims were also told to send "facilitation payments" to anonymous bank accounts, and to keep quiet about the deal. Many people are reckoned to have sent money. One Briton alone, says Sipho Ngwema, of the police investigating team, was defrauded of 2m rand (about $200,000).
South Africa worries that such scams will sully the country's name. The finance minister, Trevor Manuel, wants a call-centre set up by September, so that investors can check on local businesses without relying on websites. That should help against pyramid schemes and fly-by-night operators, but it will not guard against scams that depend upon victims' complicit silence. Next time that Savimbi's daughter or Mobutu's cousin e-mails you with a promise of riches, press delete.
* * * * *
Here is an interesting story about unusual sightings in India that appeared in the New York Times (August, 25, 2002). --not unlike UFO and Saskwatch sightings in the U.S.!
INDIA
Seeing and Believing
By AMY WALDMAN

NEW DELHI
They call it muchnowa — the "face scratcher." In the eastern part of the north Indian state of Uttar Pradesh, a mysterious flying object has supposedly attacked more than 100 sleeping villagers. They see a flashing light, feel an electric shock and a hard object, and emerge with scratched faces and limbs.
At least seven unexplained deaths have been attributed to the muchnowa, and the result has been mass hysteria — a panic that has yielded more deaths. The police killed one man when a mob stormed the station demanding protection. Another man killed his mother — ostensibly accidentally — while shooting at the mysterious light.
Theories about the cause abound, and the news media has reported each new one with delight. It may be an extraterrestrial being, or simply disoriented migratory birds or bats. Some blame genetically engineered insects from Pakistan; others, laser-equipped terrorists. The Indian Institute of Technology tried injecting science into the less-than-reasoned debate, saying the phenomenon is a rare form of lightning, but to little avail.
This is not the first such mass delusion to seize India. Last year, a "monkey man" — reputed to be half man, half monkey — terrorized Delhi residents. Six years ago, Uttar Pradesh was gripped by fear of the manai, or man-creature, which was said to be stealing babies. In the resulting hysteria, 40 people were lynched. The manai, upon investigation, turned out to be a pack of wolves dislodged from their habitat by deforestation.
Uttar Pradesh is one of India's poorest, least developed states. Perhaps rumors spread more quickly among the uneducated; perhaps the muchnowa furor is simply displaced anxiety about the state's failure to protect the welfare of its citizens.
Whatever it is, it has left its mark.
* * * * *
Bigfoot Legend Creator Dies; Family Calls Bigfoot A Hoax
Wallace's Friends, Bigfoot Believers Find Explanation Hard To Believe
December 6, 2002
Ray Wallace, who started one of the most notorious myths of our time -- the legend of Bigfoot -- has died.

Wallace died of heart failure Nov. 26 at a Washington state nursing home, at the age of 84.

Wallace's family feels that they can finally reveal the truth: Wallace made up Bigfoot.

For the last 40 years, the legend of Bigfoot has grown larger than the mythical monster itself.

Wallace, a native of Clarksdale, Mo., used photos, footprints, and Sasquatch sightings that convinced some people that Bigfoot was real. But his family says it was all a hoax.
Ray Wallace's family remembers him as a prankster whose biggest hoax contributed to the Bigfoot legend.
His family says Wallace asked a friend to carve 16-inch feet, then he and his brother wore them to create huge tracks on the ground at his California construction company in 1958. That led The Humboldt Times to coin the term "Bigfoot" on its front page.
His nephew Dale Wallace still has those "Bigfoot" fake feet.

Mark Chorvinsky, editor of Strange magazine, said the family's admission raises serious doubts about the grainy 1967 film of an erect apelike creature striding away from the camera.

Others are unfazed. Idaho State University Professor Jeff Meldrum said accounts of something like Bigfoot go back to the 19th century.
Some of Wallace's friends and Bigfoot believers are not so willing to accept the family's explanation.

Cliff Lebrecque, a Bigfoot believer, says that the big beast left an imprint on him some 25 years ago.

"I got the, you know, shook out of me and it scared me to death," Lebrecque said.

From his small Independence, Mo., shop, Lebrecque said that he remembers the Missouri man who first spotted Sasquatch.

"In fact, that casting right there was sent to me by Ray Wallace," Lebrecque said.

Lebrecque said that he even filmed Bigfoot years ago and insisted that the creature is not a man in a monkey suit.

A Bigfoot hunter proudly displays his evidence.
"And look real close and see if you can see any zippers and buttons and stuff like that," Lebrecque said.

Lebrecque insists the Bigfoot story measures up.

"From toe to heel, it's about 21 inches. That's big. That makes Shaq look small," Lebrecque said.

Lebrecque said that he is retiring next year and will likely show his Bigfoot artifacts at shows around the country. He said that despite what Wallace's family says, there are thousands of Bigfoots out there and thousands of believers.
* * * * *
Here is another interesting story from The Economist (8/25/02):
Zambia, though facing famine, said it would accept food aid only if it contains no genetically modified product. Much of the food provided by the World Food Programme to the region comes from American farms, where modified grain is common.
* * * * *
| | |
| --- | --- |
| The Economist is just filled with interesting stories. The story to the right discusses the growing business of transforming your loved ones (including your pets) into jewelry! | |
* * * * *
Lobsters, Caviar and Brandy for MPs
at Summit on Starvation
Neil Syson
The Sun
(London)
8/26/2002
THE sickening champagne and caviar lifestyle being enjoyed by Earth Summit delegates was exposed yesterday. They are gorging on mountains of lobster, oysters and fillet steak at the Johannesburg conference — aimed at ending FAMINE.
As the summit began yesterday, desperate kids in nearby shanty towns queued for water at standpipes. Bigwig politicians among the 60,000 delegates, including Deputy PM John Prescott, also get vintage bubbly and brandy.
Taxpayers are footing the £500,000 bill for the 70-strong British party. Friends of the Earth called the extravagance "deplorable". The head chef of the swanky hotel hosting Earth Summit bigwigs described the mountains of posh food he is laying on for their pleasure. And Desmond Morgan declared: "Money is no object. The chef is in charge of meals at Johannesburg's five-star Michelangelo Hotel, where world leaders and other VIP delegates are staying during the "save the planet" conference, which opened yesterday.
While people are going hungry at shanty towns just a couple of miles away, Mr Morgan told how he had stocked up with an extraordinary array of delicacies and fine wines. "It includes 5,000 oysters, more than 1,000lbs of lobster and other shellfish, buckets of caviar and piles of pâté de foie gras."
He has also got in more than 4,400lbs of fillet steak and chicken breasts, 450lbs of salmon, 220lbs of a tasty South African fish called kingclip — and more than 1,000lbs of bacon and sausages.
The huge bill is paid for by taxpayers of participating nations including Britain.
Mr Morgan said: "Whether they want Beluga caviar, foie gras or bacon sandwiches — we have it all. "In my experience, heads of state don't decide what they want to eat or drink until the last minute. "So I have to make sure I have everything they can possibly want."
Vintage champagne, fine wines, spirits and liqueurs have been flown in from around the globe so the VIPs can wash down their meals in style. A new kitchen has been especially created for world leaders, including the Sultan of Brunei, who have their own cooks and tasters.
The £35million summit — aimed at combating hunger, poverty and pollution — is centered around Sandton, the most exclusive suburb in Africa. Its streets are lined with expensive restaurants, gated villas and gleaming shopping malls. Yet close by, families scratch a desperate existence in the sprawling shanty town of Alexandra. They live in corrugated shacks. Hungry children play among piles of rubbish and queue for water at standpipes. The average weekly wage for the few who work in the township is less than the cost of a vintage brandy at the Michelangelo.
Aid agencies say southern Africa is facing its worst food crisis for more than a decade. More than 14million people — most of them children — are threatened with starvation.
The 60,000 summit delegates from 182 countries are expected to drink 80,000 bottles of mineral water during the conference. Yet each day 6,000 African children die from diseases caused by contaminated water. Since the last Earth Summit in Brazil in 1992, the number of Africans living in poverty has soared from 220million to 300million.
Several other environmental issues will be discussed at the ten-day summit, organized by the United Nations. But in another ironic twist, hundreds of trees have been felled around the conference centre so fleets of limousines will have unhindered access.
The 70-strong British delegation, led by Environment Secretary Margaret Beckett, is costing taxpayers £500,000. Most other countries fund their delegations too — but the poorest nations get financial help from the richest countries. Tony Blair is scheduled to address the summit for half an hour. He will spend less than 12 hours in his £550-a-night suite, complete with butler service, at the Michelangelo. Globe-trotting Deputy PM John Prescott arrives at the hotel, which boasts an "executive lifestyle" fitness centre, tomorrow. He and the British team, which also includes Environment Minister Michael Meacher, have five Mercedes cars at their disposal, plus two people carriers for aides. Tories have branded Mr Prescott's trip to South Africa — the 16th country he has visited since April last year — a waste of money. He has no official speaking role at the summit.
The conference's lavish nature was blasted by environmental campaigners Friends of the Earth last night. Spokesman Mike Childs said: "It is to be deplored, especially as politicians are scrabbling to do nothing about the problems of environment degradation and poverty. "They are living it up while not taking action for the millions around the world who will die because of inaction. "The people of Alexandra would be gobsmacked if they could see how people live in such opulence on their doorstep. "How can delegates sleep soundly in their beds knowing such suffering is just down the road?" He added: "We have been working closely with communities in places like Alexandra to help them get a voice. "But delegates from rich countries just don't want to listen to the poor in society."
Friends of the Earth have sent a ten-strong delegation to Johannesburg to have their say. They flew out economy class and are sleeping on the floor of a school. Tory MP Sir Teddy Taylor dismissed the summit as "absurd". He said: "The whole thing makes me feel sick. When you think about the starving people in the world and then see this sort of lavish display it just isn't right. "I'm sure nothing will be achieved at the meeting except for photo opportunities allowing politicians to say how great they are."
The criticism was brushed off by Downing Street last night. A spokesman said: "I don't think we will be going into these aspects of the summit." A spokesman for the Department of Environment said: "This is not a jolly, it is a very serious conference. "Delegates will not be living it up. And it is their duty to be conscious of costs."
US President George Bush is NOT attending Johannesburg, even though he is the leader of the world's biggest polluter. The American delegation is being headed instead by Secretary of State Colin Powell. The summit will discuss how an increasing population can boost and spread wealth without destroying the environment. But climate change is not directly on the agenda. Former top UN climate scientist Robert Watson yesterday claimed it was left off because of pressure from the US.
* * * * *
News 24

July 27, 2002

Big guy sues Big Mac
New York - An obese man in New York is suing four leading fast food chains, including McDonalds, about his weight-related health problems, hoping to win similar payouts to those made by the tobacco industry.
Caesar Barber (56) filed suite on Thursday against McDonalds, Burger King, Wendy's and KFC, accusing them of being responsible for his 123kg (270 lb.) frame and a series of heart attacks.
Barber began eating fast food in the 1950s. He said the major chains had been deceptive in presenting nutritional information about their products.
"They said '100% beef.' I thought that meant it was good for you, Barber told reporters on Thursday.
"Those people in the advertisements don't really tell you what's in the food," he said. "It's all fat, fat and more fat. Now I'm obese."
Neal Barnard, president of the physicians committee for responsible medicine, which promotes a vegetarian diet, said in a statement on Friday the suit was "no doubt just the first of many lawsuits holding the food industry at least partially to blame for America's diet-related epidemics".
* * * * *
Senior citizen thwarts robbery,
beating suspect with her cane
The Associated Press
(9/18/02 - New Kensington, Pa.)
An 85-year-old woman, angered that a would-be robber was scaring a cashier, beat the man with her cane and foiled the robbery, police said.
Police said the woman told them, "that poor child was frightened and I wasn't going to let that happen."
She would not give her name and refused medical treatment, though she was knocked to the ground by the fleeing robber, police said.
"She turned out to be a hero, but she adamantly refused to give her name," Sgt. Bob Laporte said.
Witnesses said a man grabbed the cashier by the wrists at a store in New Kensington on Monday and threatened to cut her with a metal can opener that he then used to attempt to open the cash register.
The elderly woman beat the man in the head with her metal cane and he fled, knocking her down. The woman "had some choice words for him while she was sitting on the floor," Laporte said.
* * * * *
Stray dogs Used as Mobile
Billboards in Russian city.
Ananova
September 20, 2002
Stray dogs are being used as mobile billboards by rival shops in a Russian city.
Shopworkers grab the dogs in the city of Penza after luring them with cutlets or sausages.
They then spray-paint their shop logo on the animal, reports the Molodoy Leninets newspaper.
Logos include not only the name of the shop but also the goods they stock, including Sony and Camel.
The newspaper says workers of rival stores often catch each other's dogs and repaint them in their own colours.
Local vets say they can't save animals from being painted as it is not illegal. They say it's a question of ethics rather than animal welfare.
* * * * *
Topless Tour Bus Adds Spice to Berlin
Friday, December 6, 2002
Topless tour guides are the main attraction on the Malibu Dreams bus tour.
BERLIN, Germany (Reuters) -- A tour bus filled with beer-drinking passengers and a handful of strippers is plying the night-time streets of Berlin, giving the German capital a hot new tourist attraction.
The double-decker bus cruises past the city's main tourist spots, including the Brandenburg Gate, the Reichstag parliament building, the chancellery, the state opera house, Tiergarten park and the Victory Column on a three-hour tour.
But the crowd on board seem less interested in Berlin's cultural offerings than they are in the tour guide, who slowly disrobes during her commentary, and her two "assistants" who keep spirits high with a series of strip shows.
"It's a terrific way to see Berlin, but the windows are a bit too steamed up to see much outside," said a construction worker called Sascha, cooling off with a beer after a stripper named Jenny, 20, sat down on his leg at the end of her dance.
"It's kind of humid in here," he added.
To counter a slide in tourism after the September 2001 attacks on the United States, the organizers of the Berlin stripper bus tour came up with a novel way to show people the sights along with a glimpse of the city's night life that has made Berlin famous since the 1920s.
It is an astonishing sight for those strolling along the fashionable Unter den Linden boulevard or other parts of Berlin to look into the bus at a naked blond woman standing next to the driver with a microphone in her hand.
Three police officers standing on guard duty outside the French Embassy on a recent chilly Saturday night couldn't help but stare when they saw a pair of strippers jiggling at them through the windows. The dancers blew kisses at the officers who showed their appreciation with wide smiles and a friendly synchronized wave.
Party Atmosphere
"We wanted to offer visitors something new and something exciting to revitalize the local tourism industry," said Udo Borges, who organizes the stripper bus tour known as "Malibu Dreams" that costs $10 a seat.
"We thought we'd try something like this to give Berlin's night life a new kick in the pants," he said.
The Brandenburg gate is one of the stops on the topless tour, though many tour-takers admit their attention is focused elsewhere.
The bus tour begins at 8 p.m. in front of a disco in east Berlin's Marzahn district, heads west through the government quarter, loops around the Brandenburg Gate past the British Embassy and passes through the Tiergarten before pausing for a show by one of the strippers outside the bus in front of the Victory Column.
The tour guide named Kati earnestly describes some of Berlin's political and cultural high points along the way, but the party-minded passengers, most of them middle-aged men sipping beer and other drinks, were more absorbed in the gyrating women dancing in the aisles.
"It's a great idea," said a retired man named Heinrich, drinking a rum and Coke.
"But I didn't have any time to look out the windows and see the sights. I was too busy following what was happening on the inside."
His friend Siegbert, from Brandenburg outside Berlin, was still recovering from the experience of having a dark-haired stripper named Nicole remove his glasses, rub them over her body and then gently put them back on his face.
"This is a fantastic way to get to know Berlin," Siegbert said. But he admitted he hadn't see much of the city. "It's kind of dark outside."
Berlin has a long tradition for decadence, hedonism and tolerance. During the Weimar Republic after World War I, its infamous and racy cabarets were hugely popular.
In the 1970s its western half was the center of the European hippie counter-culture. Since the fall of the Berlin Wall the city's night-clubs have once again won it a reputation as one of Europe's top party capitals.
The biggest party in Berlin history was New Year's Eve in 1999 when 3 million people cheered in the new millennium at the Brandenburg Gate with a deafening festival of fireworks, lights and cheers. About a million scantily clad ravers come to the annual Love Parade in Berlin each summer.
Broad Appeal
"There isn't anyone who doesn't enjoy an erotic show," said Richard Heidenreich, the 38-year-old operator of the Malibu disco where the stripper bus tour starts and ends. "The bus is always full. Banks, insurance companies, car dealerships and stag parties all want to go for the ride."
Borges, Heidenreich's partner, said even a senior citizens home had booked the bus for a private tour, which costs about $800 for an extended trip of six hours.
"It's a lot of fun working here on the bus," said Jenny, wearing nothing but a necklace, white leather boots and a white apron.
"The men are having a great time and it's a great atmosphere."
* * * * *
Man Dies After Detergent Mistaken for Hummus
Monday, September 23, 2002
Reuters
JERUSALEM () - A 91-year-old Israeli died after his caregiver spread a paste-like dishwashing detergent on his bread instead of hummus, police said on Monday.
The caregiver, who had worked for the old man for five years, told police he could not read the Hebrew writing on the detergent's container and served it up when the man asked for some hummus, a chickpea spread popular in the Middle East.
Police said the caregiver called an ambulance when his employer fell ill on Saturday but the man died in the hospital.
"We are checking to see whether there was criminal intent or whether it was a negligent homicide," a police spokesman said.
* * * * *
Douglas Herrick, 82, Father of the Jackalope, Is Dead
By DOUGLAS MARTIN
New York Times, January 19, 2003

ouglas Herrick, who gets both the credit and the blame for perhaps the tackiest totem of the American West, the jackalope — half bunny, half antelope and 100 percent tourist trap — died on Jan. 6 in Casper, Wyo. He was 82.

The cause was bone and lung cancer, his brother, Ralph, said.

Douglas Herrick lived in Casper, but it was in his hometown, Douglas, Wyo., that luck changed his life.

In 1932 (other accounts say 1934, 1939 and 1940, but Ralph Herrick swears it was 1932), the Herrick brothers had returned from hunting. "We just throwed the dead jack rabbit in the shop when we come in and it slid on the floor right up against a pair of deer horns we had in there," Ralph said. "It looked like that rabbit had horns on it."
His brother's eyes brightened with inspiration.
"Let's mount that thing!" he said.
That was tens of thousands of jackalopes ago. A jackalope, of course, is a legendary animal with a jack rabbit's body and the antlers of a pronghorn antelope, which resembles a small deer. The last syllable of the name comes from antelope. (Jackadeer? Nah.)
Whether jackalopes ever hopped the earth's surface is rather like the same question about the Loch Ness monster and Bigfoot; it depends on the observer. Believers say that Buddha mentioned a horned rabbit, although they usually neglect to mention that the Enlightened One implied they do not exist.
They also point to a picture of a horned rabbit painted in the 1500's, but scientists suspect its cerebral protuberances were tumors from a rabbit virus. Cowboys have said that while they were singing around the fire, their chorus was joined by a distant jackalope, often in harmony, usually in the tenor line. (Yep.)
Whether truth, fiction or metaphor, the mounted version of the jackalope, many made with deer horn tips, relentlessly proliferated. Many thousands were made by Ralph Herrick and his son Jim. Douglas Herrick was less interested in the family taxidermy shop.
"I don't think my brother ever made more than a thousand, if he done that," Ralph Herrick said. By contrast, Jim Herrick delivers 400 jackalopes to Wall Drug in South Dakota three times a year, a small portion of his total production.
Douglas became the jackalope capital. In 1965, the state of Wyoming trademarked the name, and in 1985 Gov. Ed Herschler pronounced it the animal's official home. Jackalope images adorn everything from park benches to fire trucks.
Jackalope hunting licenses are sold; an applicant must supposedly pass a test to prove he has an I.Q. higher than 50 but not more than 72. Hunting is permitted only on June 31, from midnight to 2 a.m.
Jackalope milk is available at several stores, though its authenticity is questionable; everyone knows how dangerous it is to milk a jackalope.
An oft-repeated legend is that the Herricks' grandfather saw a jackalope in Buffalo, Wyo., in 1920 and told his family about it. Not true, Ralph said.
The first mounted jackalope was sold for $10 (they now go for $35) to Roy Ball, who displayed it in his Bonte Hotel in Douglas. It was stolen.
Others have tried to take the jackalope's peculiar evolution further. A Colorado bar displays a jackapanda, a cross between a jackalope and a panda, while Wall Drug has a flying jackalope, with some partridge feathers glued to its tail.
Douglas Eugene Herrick was born on July 8, 1920, and grew up on a ranch. In World War II, he was a tail gunner on a B-17. He later worked in construction and at an Amoco refinery, in addition to stuffing animals.
Although Governor Herschler specifically mentioned Mr. Herrick in 1985 as the Jackalope's creator, his brother said the town tried to charge him a commission for each jackalope. It relented.
Mr. Herrick's wife, Marjorie, died in 1993. In addition to his brother, who lives in Douglas, he is survived by his daughters, Bonnie French of Casper and Diane Brewer of Casper; his sons, Kelly, of Colorado Springs, Colo., and Michael, of Casper; and seven grandchildren.
Michael Herrick followed his family into the business of taxidermy, but does not mount jackalopes. He prefers larger animals.
* * * * *
Libya to Chair UN Rights Commission

| | |
| --- | --- |
| Libya – a country with one of the world's worst human rights records – has been elected to chair the United Nations Human Rights Commission for 2003 despite opposition from the U.S. and human rights advocates. | |
* * * * *
Chinese New Year Celebrations Include Snake in Nose Trick
Ananova
February 11, 2002
People in China are starting to celebrate their New Year.

Celebrations in temples have included performers apparently feeding live snakes through their noses and out of their mouths.

The celebration, also known as the Spring Festival, is determined by the lunar calendar. New Year this year is officially on February 12.

Residents of Beijing have been wearing masks, dressing in costumes and eating German and Thai food as well as listening to jazz at the city's Chaoyang Park, the People's Daily reports.

Local official Yang Weiping said: "The park is expected to have some 300,000 visitors during the Spring Festival holidays. People are excited at the prospects of having something different."
Liu Tieliang, a professor at Beijing Normal University, says people are celebrating in a variety of ways, instead of just watching TV which many have done in the past.
"With globalisation ahead, the Chinese are rearranging their cultural structure," he said.
The celebration is as important as Christmas in the West.
People traditionally clean their houses, repay their debts, get their hair cut and buy new clothes in the time leading up to the New Year.
During the celebrations, people burn incense at home and in temples, paying respect to their ancestors and asking the gods for good health in the future year.
* * * * *
However, the snake in the nose trick is not exclusive to the Chinese . . .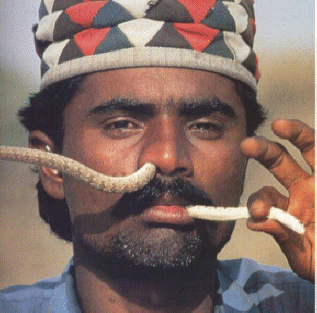 * * * * *
And you thought PETA and the animal rights people in the U.S. were strange . . .
Pig Toys No Joke in the Poke
British farmers must provide playthings for their porkers -- or face government's fiscal wrath.
January 29, 2003

LONDON (Reuters) - England's farmers must keep their pigs happy with toys and straw or face a big fine, the government said Wednesday.
Farmers have been told to put a football, metal chains or hay in their pigsties to provide "environmental enrichment" for their animals.

The ruling, originally from the European Commission and now being passed into law at home, is designed to stop pigs from getting bored and attacking each other.

"(It is) to allow pigs to forage with their snout, which is an important behavioral need," said a spokesman for the Department for Environment, Food and Rural Affairs (DEFRA).
Farmers can use straw and hay instead of toys if their sties have solid floors.
Anyone breaking the rules faces a fine of up to 2,500 pounds, DEFRA said.
Farmers recovering from the 2001 foot and mouth epidemic which saw millions of animals slaughtered said the legislation was hard to take seriously.
"It really is unbelievable," Neville Meeker, who farms 1,200 pigs in Wiltshire, western England, told Reuters. "Every farmer I've spoken to think it's hilarious."
Unusual EU directives are a staple of euroskeptic British newspapers which regularly lampoon "meddling eurocrats."
In 1999, Britain was the seventh largest pig producer in the EU, with over 14 million pigs being slaughtered.
* * * * *
Mother Claims Genie Circumcised Baby
Associated Press
February 20, 2003
A mother has claimed that a genie circumcised her 10-month-old son while she was cooking breakfast, the state news agency Antara reported Thursday.
The report did not say whether the toddler, Riyan Abdullah, experienced any complications as a result of the operation, which allegedly took place early Wednesday close to the town of Tasikmalaya, on Java island 250 miles southeast of Jakarta, the agency reported.
"When I heard Riyan crying, I went straight to his bedroom and couldn't believe what my eyes saw," Riyan's mother, identified only as Ineng, told Antara. "He had been circumcised."
The family immediately suspected it was the work of a genie, belief in which is widespread in Indonesia. They summoned a local paranormal to the house who confirmed their suspicions, the report said.
More than 90 percent of Indonesia's 210 million are Muslim, though many still believe in sprits and the unseen world. According to Islamic tradition, Indonesian boys are normally circumcised, usually when they reach the age of 6 or 7.
* * * * *
Where is Ripley's "Believe it or Not" when we need it?
High Country News, July 7, 2003.
Karl Breheim, who lives near Spokane, Wash., says a timber sale near Galice, Ore., must be stopped because it threatens an endangered species: Bigfoot. Breheim says he was in the sale area seven years ago and found a huge footprint, 50 small trees broken off some 8 to 9 feet above the ground, and an apparent bite mark on a toolbox he'd left on the ground. Now, he wants the indentation tested for possible DNA evidence of the legendary ape-man. "You talk about Bigfoot, people think you're crazy," he told the Daily Courier. But Breheim said his aim is to save the old-growth forest where Bigfoot makes his home.
* * * * *
World's Oldest Genitals Found in Scotland
LONDON (Reuters)
September 17, 2003
Scientists have discovered fossils of the world's oldest genitals -- belonging to 400 million-year-old insects -- in ancient rocks in Scotland.
The penis of the ancient harvestmen insects, commonly known as a daddy-long-legs, was two-thirds the length of the body and remarkably similar to the modern-day species, New Scientist magazine said Wednesday.
"The discovery of the world's oldest genitals proves that little has changed over the last 400 million years -- at least for daddy-long-legs," the magazine said.
Jason Dunlop and a team of researchers from Humbolt University in Berlin, Germany, who will present their findings at a conference in Aberdeen, also uncovered a long egg-laying organ called an ovipositor from a female.
"As well as genitals, the fossils have the oldest known arachnid respiratory system, suggesting harvestmen's ancestors had long since crawled out of the sea and learned to breathe," the magazine said.
Harvestmen arachnids are sometimes mistaken for spiders but they are more closely related to ticks or mites because they do not spin webs.
The previous oldest penis, which dated back 100 million years and was found in Brazil, belonged an ostracod, an early crustacean related to crabs, shrimps and water fleas.
* * * * *
Here are a couple of guys who need to pay a little more attention to what they are doing . . .
Man Accidentally Saws Penis into Six Pieces
Moscow Times
Tuesday 13th March 2001
A coffinmaker, who accidentally sawed his penis into six pieces, is one of a number of Russians treated in a special clinic. Emergency Care for Men only treats injuries to the male genitals and has been nominated for an award. The coffinmaker was rushed into the hospital after his circular saw got caught up in his trousers. His penis is now fully functioning. Other cases include men who have had their penises bitten off by wives, lovers and dogs.
Emergency Care for Men was established at a Moscow hospital in 1999 and now stands to win the Prizvaniye Prize. Professor Pyotr Shcheplev set up the department to develop the field of andrology, which focuses on the study of the male genitals, according to The Moscow Times. He sums up his mission, saying: "If a penis has some defect, it is a big psychological blow. It's a man's dignity."
The centre plans to hold seminars for doctors and emergency service workers to help increase their awareness of the injuries particular to men. The winner of the Prizvaniye Prize is to be announced in June and will be awarded the equivalent of £6,871. Emergency Care for Men is one of seven nominees.
* * * * *
Man Mistakenly Cuts off Penis, Dog Eats It
Reuters
October 4, 2004
BUCHAREST - A elderly Romanian man mistook his penis for a chicken's neck, cut it off and his dog rushed up and ate it, the state Rompres news agency said Monday.
It said 67 year-old Constantin Mocanu, from a village near the southeastern town of Galati, rushed out into his yard in his underwear to kill a noisy chicken keeping him awake at night.
"I confused it with the chicken's neck," Mocanu, who was admitted to the emergency hospital in Galati, was quoted as saying. "I cut it ... and the dog rushed and ate it."
Doctors said the man, who was brought in by an ambulance bleeding heavily, was now out of danger.
* * * * *
Who says that dogs are a man's best friend? . . .
Pup Shoots Man, Saves Litter Mates
Associated Press
September 9, 2004
PENSACOLA, Florida
Nice shootin', Rex!
A man who tried to shoot seven puppies was shot himself when one of the dogs put its paw on the revolver's trigger.
Jerry Allen Bradford, 37, was charged with felony animal cruelty, the Escambia County Sheriff's Office said Wednesday. He was being treated at a hospital for a gunshot wound to his wrist.
Bradford said he decided to shoot the 3-month-old shepherd-mix dogs in the head because he couldn't find them a home, according to the sheriff's office.
On Monday, Bradford was holding two puppies -- one in his arms and another in his left hand -- when the dog in his hand wiggled and put its paw on the trigger of the .38-caliber revolver. The gun then discharged, the sheriff's report said.
Deputies found three of the puppies in a shallow grave outside Bradford's home, said sheriff's Sgt. Ted Roy.
The other four appeared to be in good health and were taken by Escambia County Animal Control, which planned to make them available for adoption.
* * * * *
Sleeping woman 'seduced strangers'
CNN
Friday, October 15, 2004
CANBERRA, Australia (AP) -- A woman seduced and had sex with strangers while she slept and later had no recollection of her infidelities due to a sleeping disorder, according to her Sydney doctor.
The middle-aged woman had no idea that she was sneaking from her house at night in search of sex with random strangers until her partner awoke, discovered she was missing from the bedroom, and found her having sex with another man, Royal Prince Alfred Hospital sleep medicine physician Peter Buchanan told The Sydney Morning Herald newspaper.
Her partner was already aware that she was a sleep walker and also had been confounded by condoms he found strewn around the house, Buchanan said Thursday.
Buchanan will discuss the case when he lectures on sleep sex -- the disorder has yet to be given a formal title -- at the Annual Scientific Meeting of the Australasian Sleep Association in Sydney at the weekend.
"It is very complex, elaborated motor behavior during sleep," Buchanan told the Australian Broadcasting Corporation.
"People are often stunned and overwhelmed when they're told what they've been doing," he added.
The partners and doctors of people suffering from the disorder often do not believe the acts were committed while they slept, he said.
"It's very stressful both for them, for their partner or for their relationship," Buchanan said.
"It also promotes an intense sense of embarrassment on their part, their partner's behalf and this inhibits people coming forward to seek potentially helpful professional intervention."
* * * * *
Choose your hospital carefully . . .
* * * * *
Jury Rules Against Woman in Genital Gluing
Associated Press
November 6, 2005
GREENSBURG, Pa. -- A Westmoreland County jury on Friday ordered a woman to pay $46,200 to her ex-boyfriend for gluing his genitals to his abdomen.
Jurors found in favor of Kenneth Slaby of Pittsburgh in his civil case against Gail O'Toole of Murrysville after three days of testimony and ordered the payment for pain, suffering and emotional distress, according to television station KDKA.
"For all the pain and suffering I've been through, and the embarrassment, I don't think it's enough," Slaby told reporters after the verdict.
Slaby's lawsuit said the two broke up in 1999 after dating for 10 months, and he began dating someone else. After he broke up with his other girlfriend, Slaby said, O'Toole invited him over to her home on May 7, 2000, where he fell asleep.
He said he woke up to find that O'Toole had used Super Glue to stick his genitals to his abdomen, glued his buttocks together and spelled out a profanity on his back in nail polish.
Slaby said O'Toole told him that her actions were payback for their breakup, and he had to walk a mile to a gas station to call for help. He pressed charges and O'Toole pleaded guilty to misdemeanor assault and spent six months on probation.
But O'Toole's attorney contended that the incident was nothing more than part of the couple's adventurous, consensual sex.
* * * * *
more to come . . .