Native American Ecology

Spring 2010

Yuma Woman with Child
Required Texts:
1. Richard Nelson, Hunters of the Northern Ice. University of Chicago Press. 1972.
2. Fergus Bordewich. Killing the White Manís Indian. New York: Anchor: 1997.
3. George T. Hunt. The Wars of the Iroquois. Madison: University of Wisconsin Press. 1940.
4. Andrew C. Isenberg. The Destruction of the Bison: An Environmental History. Cambridge University Press. 2000.
5. Joseph Jablow. The Cheyenne in Plains Indian Trade Relations 1795-1840. University of Nebraska Press. Reprint edition. 1994.
6. Shepherd Krech III. The Ecological Indian: Myth and History. W.W. Norton & Co. 2000.
| | |
| --- | --- |
| Internet Reference Sources: | Navajo Rug |
Course Description:
Much has been written claiming a unique relationship between American Indians and the environment. Applying the methods of scientific explanation, combined with the principles of human ecology, this course will: (1) critically examine the claim of a unique Native American ecology and the literature supporting this claim; (2) systematically explore the ecology of Native American peoples and the role that human-environmental relations played in the evolution of native societies prior to European contact; and (3) examine the impact that ecological factors played in determining the history of both Indian-Indian and Indian-White relations.
A variety of teaching techniques will be used throughout the course, including lectures, class discussions, small-group discussions, films, and out-of-class assignments. In addition, reading assignments will be given in the form of handouts distributed in class, internet sites, email messages and both articles and videos placed on reserve in the Trexler Library and or the Sociology and Anthropology Resource Room (Ettinger 206). These different sources of information and methods of teaching are used to complement and reinforce each other in order to increase the depth and the scope of the student's understanding of the material included within the course. They are not included merely to provide repetition. Each should, therefore, be viewed by the student as an equally important method of instruction. It will be assumed that all of the readings and other out-of-class assignments will be completed by the dates scheduled. All such material will be considered required reading and will be included on examinations.
Examinations:

The following procedures will be used for computing a student's final grade in this course:

1. Mid-term exam (multiple-choice & essay)

2. Final exam (multiple-choice & essay)

30%

30%

30%

10%

Plains Indian
Research Paper:
1. Each student will complete a 10-page research paper on some aspect of Native American ecology. The paper is due the last day of class. Sample Paper Topics.
2. ALL research essays MUST be typed and properly referenced. Handwritten papers will NOT be accepted.
3. Students are encouraged to meet regularly with the instructor to discuss the progress of his or her paper. Frequent consultations can only help to improve the quality of both the final paper --and, thus, the grade that both receive.
4. Although the primary concern is with the quality of the ideas and analysis presented, the research report will be evaluated in terms of their originality, organization and clarity, and in terms of their adherence to accepted writing standards. Reports must be typed clearly and legibly. They must also be organized, grammatically correct and free from spelling errors. Reports must, therefore, be carefully proof read before they are submitted. A sloppy and poorly written report will not receive as high a grade as a comparable report which is neat and clearly written, which expresses a coherent theme, and which contains few spelling and grammatical errors. Having an idea that you cannot express clearly and concisely is little better than not having the idea at all. Developing good writing skills is, thus, very important. Students are strongly advised to meet with the social science reference librarian and to visit the Campus Writing Center several times during the course of writing their papers.
5. Research papers must be based on scholarly sources. Internet sources, except in specific instances, are NOT considered valid sources. The student should use the reading material assigned in class and class presentations as a guide to the kind of research that is expected.
Grading Policy:
1. ALL assignments and examinations must be completed or taken at the time scheduled. Make-up tests will only be given in the event of an emergency and will receive a 10-point reduction in grade for each day they are late, i.e., a score of 80 on a make-up test will be recorded as a 70, 60, 50, etc. (Printer dysfunction is not a valid excuse for a late paper. It shows that the student waited until the very last minute to complete an assignment.) Similarly, incomplete course grades will be reduced by 10 points when they are completed. The grade on any exam not taken or assignment not completed will be zero. Plagiarized assignments will also receive a grade of zero.
2. ALL materials assigned for reading, presented or discussed in class (including films) or distributed in class and/or by email will be potentially included in examinations.
3. Active informed participation in class discussions is expected and will positively affect a student's grade.
4. In the final analysis, responsibility for completing all course requirements rests with the student. If the student has any doubt on any matter regarding the course, he or she should contact the instructor BEFORE the problem becomes insurmountable. One of the benefits of the small size of Muhlenberg College is the potential that exist for easy faculty-student contact.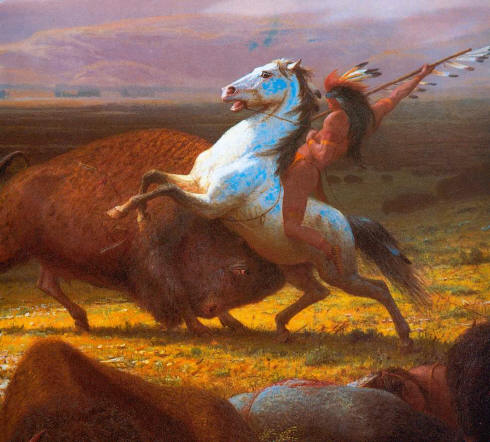 The Last Buffalo
* * * * *
Schedule
| | |
| --- | --- |
| Unit 1 | Thinking Critically about Native Americans |
Declaration of War on the New Age.

1. Mander, "What You Don't Know about Indians." [R]

2. Hughes, American Indian Ecology. [R]

3. Deloria, "Indians Today, the Real and the Unreal", Chapter 1 in Custer Died for Your Sins.

4. Goodrich "Attack on the Kiowa." [H]

5. Chief Seattle's 1854 Speech

6. Susan Jeffers, Brother Eagle, Sister Sky. [R]

Film: "More Than Bows and Arrows"

* * * * *

7. Krech, The Ecological Indian, "Introduction" and Chapters 3 & 4.

8. Williams, References on the American Indian Use of Fire in Ecosystems.

9. Abruzzi, The Myth of Chief Seattle.

10. Anderson, Dances with Myths.

11. Bordewich, Killing the White Man's Indian, Chapters 1 - 6.

12. Smith, For All Those Who Were Indian in a Former Life.

Romanticizing American Indians (ppt)

Film: "Plastic Shamans, White Medicine Men" [R]

* * * * *

Native Americans and Environmentalists
"A concern with knowing the world, rather than advocating a view of the world because it confirms some political, ideological, or religious project, has always been fundamental to scientific philosophy."

--Lawrence Kuznar, Reclaiming a Scientific Anthropology (1997)

"The aim of scientific research is to formulate explanatory theories which are: (1) predictive (or retrodictive), (2) testable (or falsifiable), (3) parsimonious, (4) of broad scope, and (5) integratable or cumulative within a coherent and expanding corpus of theories."

--Marvin Harris (1994)
* * * * *
| | |
| --- | --- |
| Unit 2 | Principles of Human Ecology |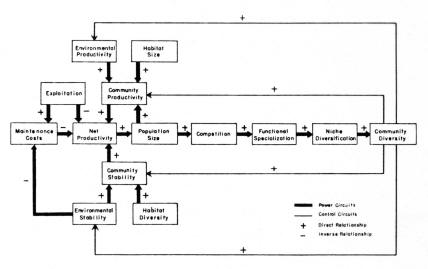 * * * * *
| | |
| --- | --- |
| Unit 3 | Cultural and Natural Regions in North America |
* * * * *
| | |
| --- | --- |
| Unit 4 | Inuit Ecology: Adapting to the Demands of an Arctic Environment |
1. Nelson, Hunters of the Northern Ice, Chapters 1-5 & 12-18.

2. Moran, "Human Adaptation." [JSTOR]

3. Mowat, "The Blood in Their Veins." [R]

4. Balikci, "Female Infanticide on the Arctic Coast." [R]

5. Kemp, "The Flow of Energy in a Hunting Society" [R]

Films: "At the Caribou Crossing Place"

"At the Winter Sea Ice"

* * * * *

Inuit Energy Flow Chart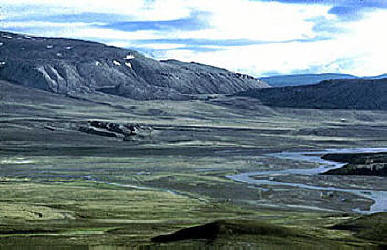 Arctic Tundra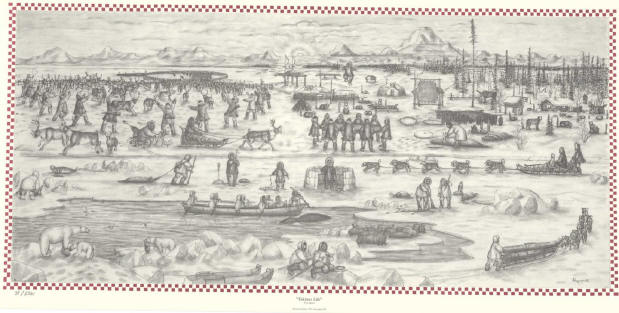 "Eskimo Life"
by
George Ahgupuk
* * * * *
Mid-Term Exam

* * * * *
| | |
| --- | --- |
| Unit 5 | The American Southwest: Adaptations to Desert Ecosystems |
Chaco Culture National Historic Park

1. Krech, The Ecological Indian, Chapter 2.

* * * * *

2. Oswalt and Neely, "The Hopi: Farmers of the Desert." Chapter 8 in This Land Was Theirs [R]

3. Oswalt and Neely, "The Navajo: Raiders and Herders of the Desert." Chapter 9 in This Land Was Theirs [R]

* * * * *

4. Schroeder, "Shifting for Survival in the Spanish Southwest." [R]

5. Abruzzi, "Competitive Exclusion and Protohistoric Population Interactions in New Mexico. "

Films: "Chaco Legacy"

"Cannibalism in the Canyon"

"Seasons of the Navajo"

* * * * *
* * * * *
| | |
| --- | --- |
| Init 6 | The Iroquois and the Beaver Trade |
from the

1. Krech, Chapter 6 & 7.

2. Hunt, Wars of the Iroquois.

* * * * *

Beaver Dam
* * * * *
| | |
| --- | --- |
| Unit 7 | Plains Indian and Bison Ecology |
Bison Drive

How the Buffalo Were Released on the Earth

--Apache story

Arapaho Ghost Shirt

The Origin of the Buffalo Dance

--Blackfoot story

1. Krech, The Ecological Indian, Chapter 5.

2. Isenberg, The Destruction of the Buffalo.

3. Flores, "Bison Ecology and Bison Diplomacy." [JSTOR]

5. Jablow, The Cheyenne in Plains Indian Trade Relations 1795-1840.

6. Klein, "Political Economy of the Buffalo Hide Trade: Race and Class on the Plains." [R]

7. Klein, "The Political Economy of Gender: A 19th Century Plains Indian Case Study." [R]

8. Wishart, "The Roles and Status of Men and Women in Nineteenth Century Omaha and Payee Societies: Postmodernist Uncertainties and Empirical Evidence." [R]

* * * * *

9. Bamforth, "Indigenous People, Indigenous Violence." [JSTOR]

11. White, "The Winning of the West: The Expansion of the Western Sioux in the Eighteenth and Nineteenth Centuries." [JSTOR].

* * * * *

Mandan Buffalo Dance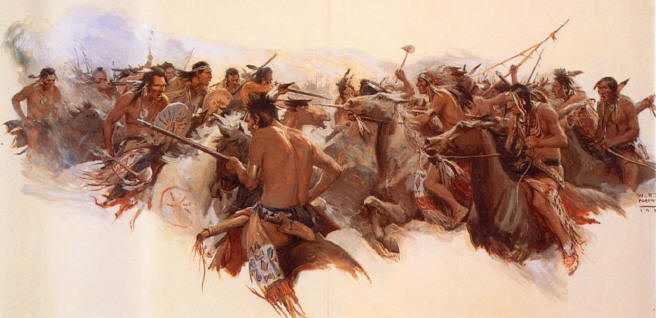 * * * * *
Final Exam
* * * * *